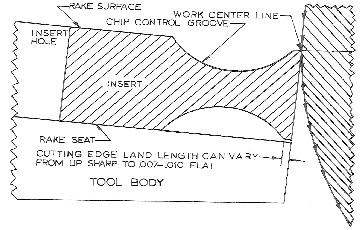 Figure 1, Rake Seat, Rake Surface, Cutting Edge Land Length

The lathe tools we offer are machined with a double negative "RAKE SEAT" ,i.e. the seat has a negative back as well a negative side rake. The amount of the rake angle will vary with each specific tool style. This arrangement allows us to use a very strong, popular, and inexpensive insert ( on a per point bases). Figure 1 shows how it is possible to achieve a " POSITIVE RAKE SURFACE PRESENTATION" even though the insert is mounted in a "Negative Rake Seat". The "Cutting Edge Land Length" and the groove just behind this , in combination offer the option to machine the rake seat double negative in the tool body while still presenting the rake surface to the work with a positive rake result if the depth of cut exceeds the cutting edge land length. The cutting edge land length on a TNMG-XXX insert can vary from up sharp to .007 to .010 depending upon the manufacturer.

The insert cross section in figure 1 is the standard TNMG-XXX which has six cutting points and very important feature just behind the cutting point that we refer to as the "Chip Control Groove". This groove evolved over time when machinist observed that as the chip flowed over a plain flat rake surface a groove formed. Even though the chip at that point is under very little pressure the chemical and abrasive action produces the groove. It is now noted as one of the common wear mechanisms and called "crater wear". Once the groove was formed the workers noted that the chip was deflected to curl against the uncut work surface or against the tool body by breaking into short easily manageable chips rather than the long stringy, sharp, hot and very dangerous ones.

Chip control is also influenced by a host of factors including the cutting speed in Surface Feet per Minute (SFM), the Depth Of Cut (DOC), the feed rate in Inches Per Revolution (IPR), and Lead Angle formed between the cutting edge of the tool and the work.

For example, out right hand tool with a 30 degree lead angle is the one we bill as our Turn and Face model because the two exposed points are positioned vertically in such a way as to allow the operator to Turn and face with these two points in the same set-up. In a normal roughing right hand turning operation with an alloy steel, i.e. 4140 or 4340 and our Turn and Face model you could easily produce "good chips" with a DOC of .025 to .035,SFM. of 350-400 , and IPR of .012 to .018.

In general for rough turning , one would want to use the largest lead angle practical in order to use as much of the insert's "cutting edge length"( not to be confused with cutting edge land length). For example a .050 DOC with a right hand tool and zero lead angle would produce a cutting edge length of .050. On the other hand a 30 degree lead angle would produce a chip width of.0577 for the same DOC of .050. The 30 degree lead angle allows you to use almost .008 more of the inserts cutting edge that is available to you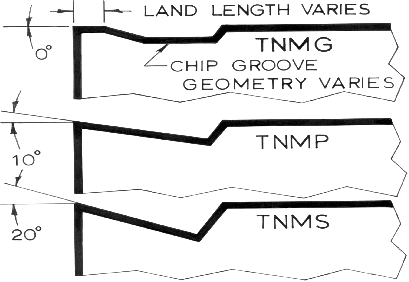 Figure 2 depicts three very basic Rake Surface Angles which would be regarded as major elements of the topography. The land length shown in figure 2 are somewhat misleading in that the transitions to the chip control groove and the groove itself is smooth rather than harsh angles as shown in figure 2, a positive rake surface is possible with the TNMG-XXX insert if the DOC is greater than the cutting edge land length. The TNMP and the TNMS insert are commonly available if your work requires a higher positive rake surface presentation to the work surface. They sell for more money and , at this point , we have not seen a need to stock them over the TNMG.

Minor topographical elements such as the bumps and humps enhance chip control and reduce heat transfer from chip to insert because of the reduced surface area in contact. Micro features would include imperfections in the molded substrate and /or the coatings that may be applied to the substrate. The coatings greatly enhance the performance of the insert and are very quickly becoming the industry standard. Various coatings are used to increase abrasion and chemical resistance , offer greater heat resistance , lubricity and increase hardness. A true diamond can now be actually grown on the surface of an insert with very complex topography. Although diamond is very hard it is not practical to machine ferrous alloys , but performs exceedingly well with highly abrasive non-ferrous materials.

The Following inserts can be used to achieve various rake surface presentations from double negative to double positive: TNMA,TNMP, TNMM,TNMS, and TNMZ. Some of these inserts are single sided inserts.

Inserts with the following characteristics can be used in both the Standard and Turn and Face models: (1) 60 degree Triangle footprint, (2) 1/4" (222 series) or 3/8" (322 series) I.C. ( inscribed circle), (3) Zero degrees of end clearance.

The tool was designed for inserts with a 1/32" to 3/64" nose radius. A 1/64" nose radius could be used on light cuts and of course the tool could be modified to accept a larger nose radius.

PLASTOOLS, LLC

3856 Magrath rd. Bellingham, WA 98226

Ph:360-739-8748

jeff@plastools.com www.plastools.com
200 series Lathe Tools
We offer three tools in three different size shanks in our 22X Series that use the TNMG-2XX indexable carbide inserts with a 1/4" I.C. Our TURN and FACE model and a –5 Degree right and left hand tools. We do sell this in a package set of three. They are offered in 1/4" square shank ( Turn & Face only) and a 3/8" square shank or a special 1/4" tool cutter height by 3/8" Square shank (1/4"x 3/8" shank) for Sherline & TAIG type Lathes.
300 Series Lathe Tools
Here is our what we call our 322 Series of lathe tools. The 322 series uses the TNMG-322 indexable carbide insert with a 3/8" I.C. This series of lathe tools is for lathes that require shank sizes from 1/2" to 3/4". We manufacture these tools in 1/2",5/8", and 3/4" shanks. We make two different lead angles in this series, -5 degree right and left hand and 30 degree lead angle models. The three most widely used tools are our "TURN and FACE" model and a –5 degree right hand and left tools. We do sell this in a package set of three.